Formula 1
Why a race that Verstappen didn't win was key to his 2023 dominance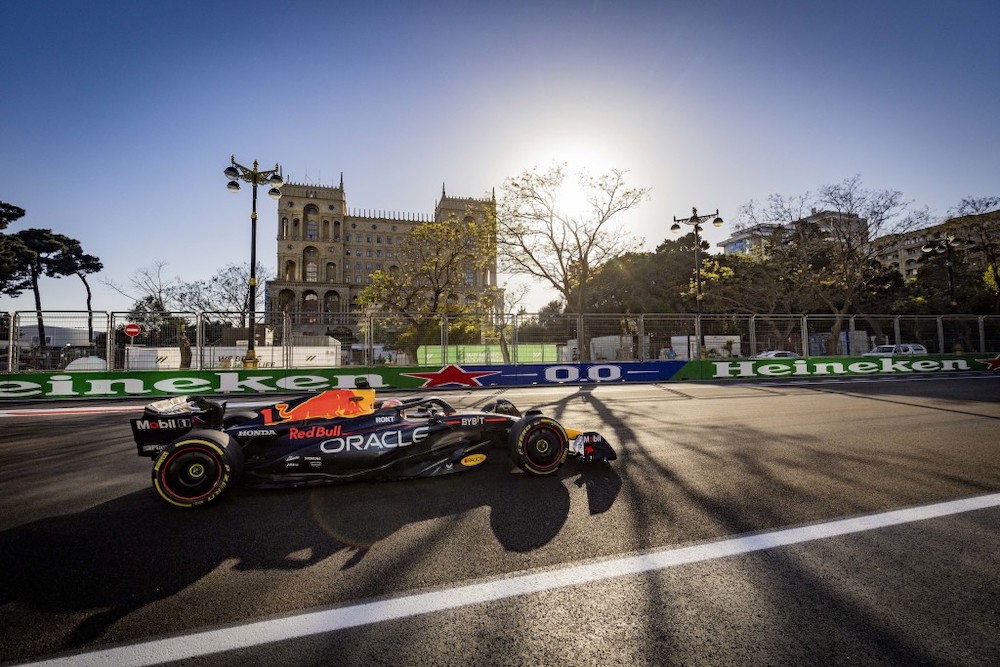 On Saturday night, when Max Verstappen wrapped up a third subsequent drivers' championship, it felt like it had been coming for months.
As I reflected on three of the races that I felt stood out during his record-breaking season, Miami came to mind considering it really appeared to unravel the resolve of Sergio Perez and kicked off an immense run of 10 subsequent race victories that really did ensure it was very much a matter of when he would win the title, rather than if.
It's easy to say now that Perez was never offering up a realistic challenge, but that belittles some of the increasingly remarkable aspects of what makes Verstappen so special. The facts are that the two drivers shared two wins apiece from the opening four rounds, and although Verstappen had to recover from a qualifying issue in Jeddah, Perez had the pace to respond during that race and repel his teammate's charge.
Then in Baku, Perez moreover managed to write-up Verstappen in both the Sprint and the main grand prix itself. Sure, Verstappen says he doesn't really like street circuits and they don't suit him, but he's still largest than most in the Red Bull regardless of the track he's driving on, and there have been street circuits since then where Perez has been nowhere near worldly-wise to get as tropical to his teammate as he was at the start of the season.
There's no largest example of that than Singapore – one of the other races that stood out as one of Verstappen's best. There are some similarities to Baku, and it's a venue that Perez won at 12 months ago, so he unmistakably can finger strong there. But this time, despite a car that was unmistakably not to either driver's liking, Verstappen finished a massive 33 seconds superiority of Perez on the road, surpassing a five-second time penalty for the latter made it plane bigger.
But the most recent time Perez write-up Verstappen – yes, Baku is the last time the Mexican has finished superiority out of the two – was unquestionably the pivotal moment where it all clicked for Verstappen. Plane if he was tamed on track, he had won a variegated wrestle when it came to understanding the RB19.
"It was when I was overdue without the pit stop with the Safety Car," Verstappen said when I asked him why Baku was so inside to the rest of his season. "Of course, I knew that it was going to be very nonflexible to pass. I was trying a lot of things. Some worked, that's why it was a bit of an up and lanugo stint.
"I was just trying a lot of variegated combinations on the wheel, to get a bit increasingly of an understanding (of the car), considering it was still so early in the season, probably we were still not fully on top of a few things. Towards the end of the race, I found my rhythm, I found my preferred balance, and it helped to just find a little bit increasingly of an edge.
"There's a few things coming together more, and having a good run as well. And moreover in the whence of the season, we were mainly driving on street circuits which I think in unstipulated are a little bit less enjoyable, and then you get to tracks where you have a lot of fast corners and it's just largest to drive."
Even Verstappen suggests the tracks themselves played a part, but in experimenting with items such as restriction wastefulness and power unit settings – while worldly-wise to unmistakably see Perez in front and how those changes impacted the relative performance between the two of them – he ensured the tracks that were, in his words, "a little bit less enjoyable" became just as lucrative as his increasingly favored venues.
"I jumped out of the car without the race, and of undertow P2 is not where I want to be, but I was like, 'I unquestionably learned a lot throughout the race'. It was unquestionably very useful to do.
"It's not like I suddenly turned the car upside down, but little details can make the difference."
It's working on those little details and stuff worldly-wise to retread to them that makes the weightier drivers stand out. Perhaps Verstappen of a few years ago would have been run a bit increasingly closely by his teammate at some other venues or plane tamed by a McLaren in Qatar if it wasn't for that ongoing development.
Even Jos Verstappen has to shoehorn that the consistency that his son has found is a remarkable trait.
"I know he had something special, but then Formula 1 was a variegated world and a long way away," Verstappen's father says. "Finally he got his chance, and the rest is up to Max. What he's doing at the moment is unbelievable, and I'm just very proud of this year. How many wins and how he manages to be there every weekend again."
That consistency started in that final stint in Azerbaijan, and Verstappen himself acknowledges it was a weekend that improved him increasingly than a trip to victory usually does.
"I'm unchangingly out there just to do the weightier I can, and of undertow sometimes I'm not happy with the performance or how the weekend was going, but I unchangingly try to be perfect and wilt largest every single race weekend I enter," he says. "Of undertow some of them you maybe learn a bit increasingly than others. Baku, maybe it was not fantastic – I didn't win the race – but I learned a lot and sometimes that's increasingly important than winning the race as we had a unconfined run."
Singapore might have interrupted it, but the performance there from the suburbanite was still strong, and with flipside two wins having followed it's pearly to say we're still seeing the full impact of Verstappen's gains this season. The scary part is how many increasingly there could still be ahead, too.